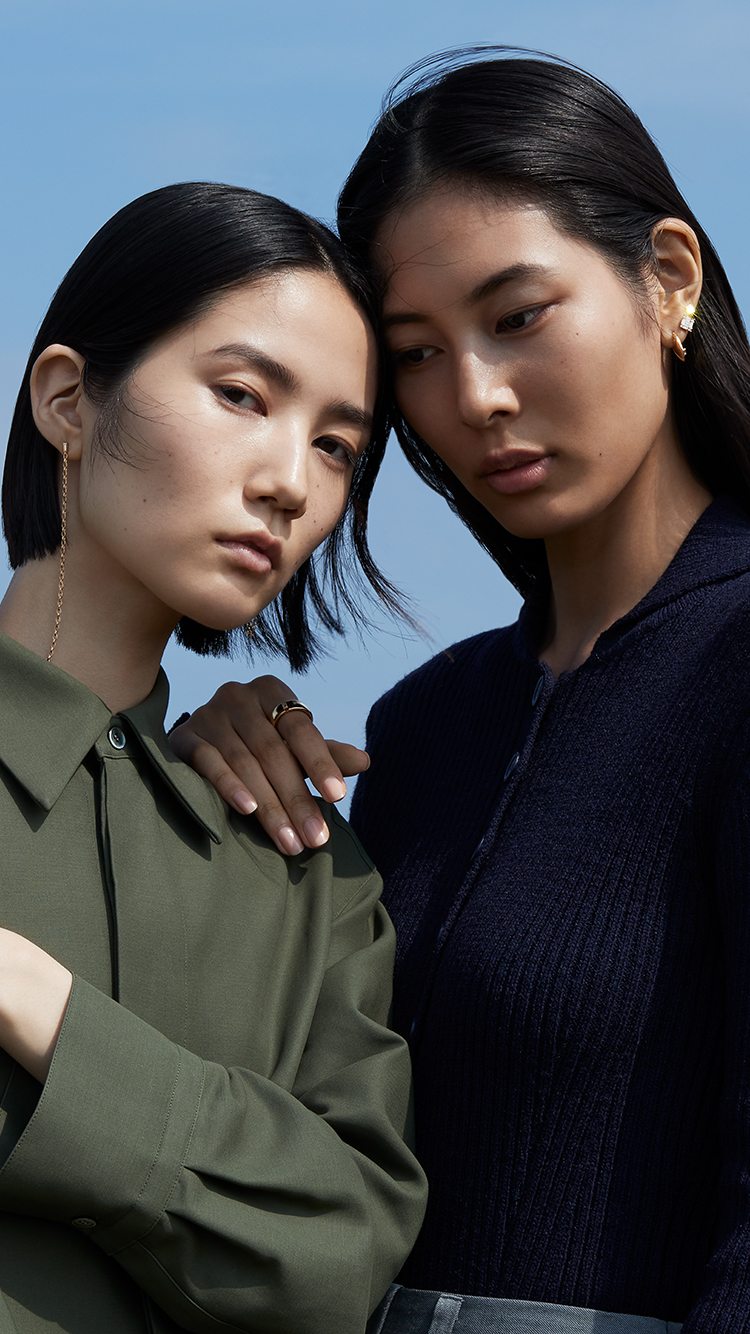 Philosophy
SOPHISTICATED
HIGH-QUALITY
COMFORT
HANDSOMUSE
新たな時代、今、女性たちが歩んでいきたいのは誠実な人生。
その表現のひとつ、ファッションも、無理なく自分らしさを感じさせるスタイルへと変化している。
社会における存在や家庭での役割を楽しみながら、常に考えているのはその選択が「私」かどうか。
意志ある格好よさ=HANDSOMEと、人生を彩る優雅さ=MUSEを併せ持った
"HANDSOMUSE"にお届けするのが、ベルシオラのファッション・ファイン・ジュエリー。
In today's new era, women want to live a sincere life.
They're expressing this through their fashion choices, too, by shifting toward styles that feel effortlessly authentic.
As she enjoys her social life, work and family,
today's modern woman is always wondering whether each choice she makes is truly her.
Bellesiora's fine fashion jewelry presents "HANDSOMUSE,"
featuring both determined good looks ("handsome") and inspirational grace for women in their daily lives ("muse").
HANDSOMUSE
人生の選択に迷ったときも、自分らしさを失わないよう生きてきた。
家族や友人との穏やかな時間、真摯に積み重ねた仕事、熱中できる趣味……
築きあげてきた個性に少しずつ磨きをかけながら。
誰かを真似るのでもなく、主張しすぎるのでもない。
そして自分の幸せだけでなく、環境に配慮し、人を思いやる気持ちを持って。
そんな"HANDSOMUSE"に、ベルシオラは自信や力をもたらし、心を解き放つ存在でありたい。
持てる能力はしなやかに、醸し出す華やかさはさりげなく−−−。
ベルシオラのジュエリーはまだ見ぬ輝きを秘め、半歩先を歩もうとする女性とともにある。
She never loses her sense of self, even in moments when she's not sure about which choices to make in life.
Peaceful moments with friends and family, overwhelming job responsibilities, passionate pursuit of her hobbies…
these all gradually continue to shape the character she's built for herself.
She doesn't imitate anyone else or force her will on others.
She doesn't think only of her own happiness but remains conscious of the environment and cares about other people.
With "HANDSOMUSE," Bellesiora wants to give you the confidence and power to set your heart free.
Express your capabilities directly and project an elegant, understated beauty.
Bellesiora jewelry has a secret, hidden sparkle for women who are ahead of the curve.
SOPHISTICATED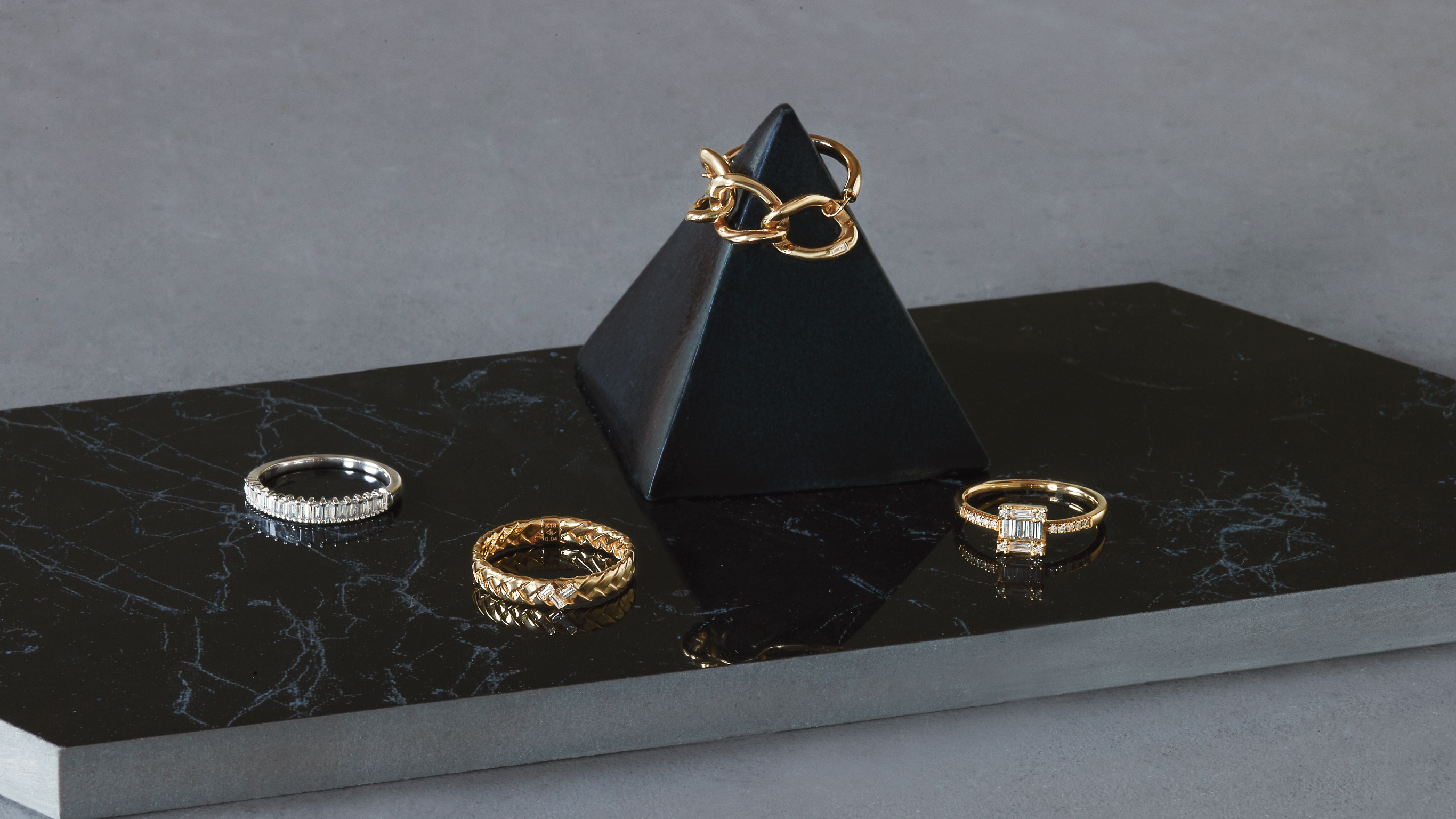 これまで身につけてきたジュエリーが、ふと、しっくりこなくなる瞬間がある。
ベルシオラのダイヤモンドは、過剰に飾り立てるゴージャスさではなく、日常を自然と華やかにする。
直線的なテーパーバゲットカットダイヤモンドを整然と並べたり、ランダムな配置で動きを出したり。
秩序のなかにグラフィカルな遊びを添えた絶妙のコントラスト。
ダイヤモンドとしての輝きは上品に、面で魅せたミニマムなデザインに私はすっかり虜になっている。
There are moments when the jewelry you used to wear suddenly just doesn't seem right anymore.
Bellesiora diamonds are not ostentatiously glamourous – they brighten up the everyday naturally.
Tapered baguette cut diamonds with straight lines are arranged in an orderly fashion or randomly placed to create movement.
This exquisite contrast incorporates graphical playfulness within order.
You'll be completely captivated by the diamonds' elegant sparkle and the beautiful, minimal designs.
HIGH-QUALITY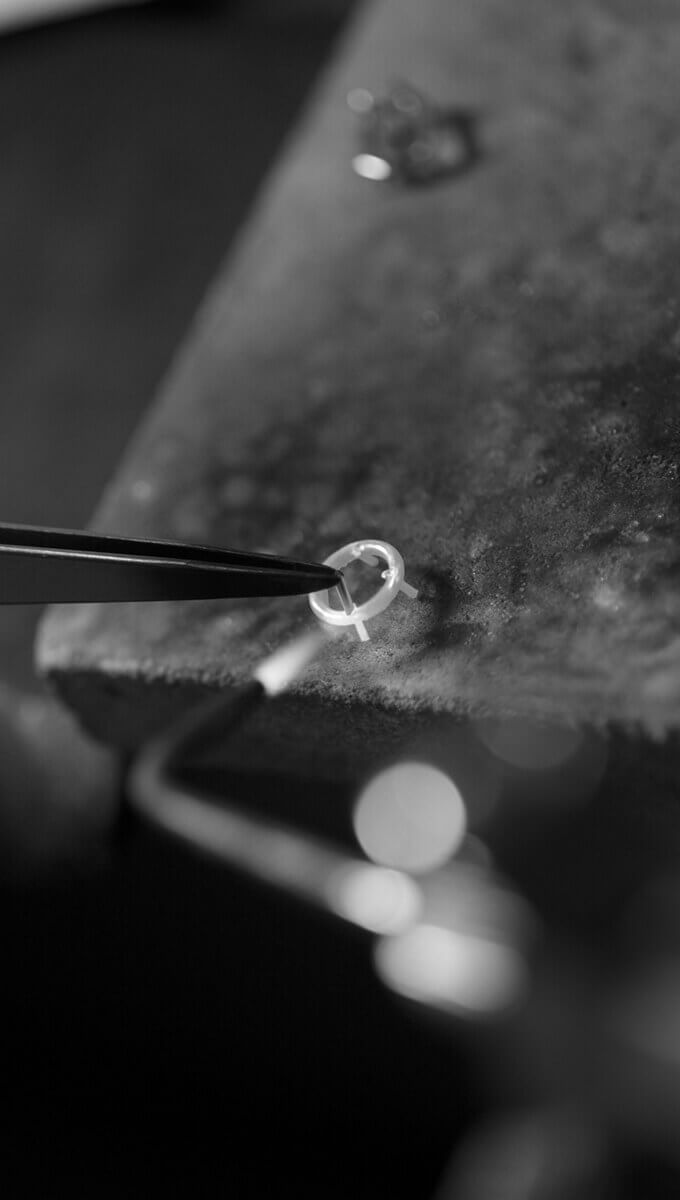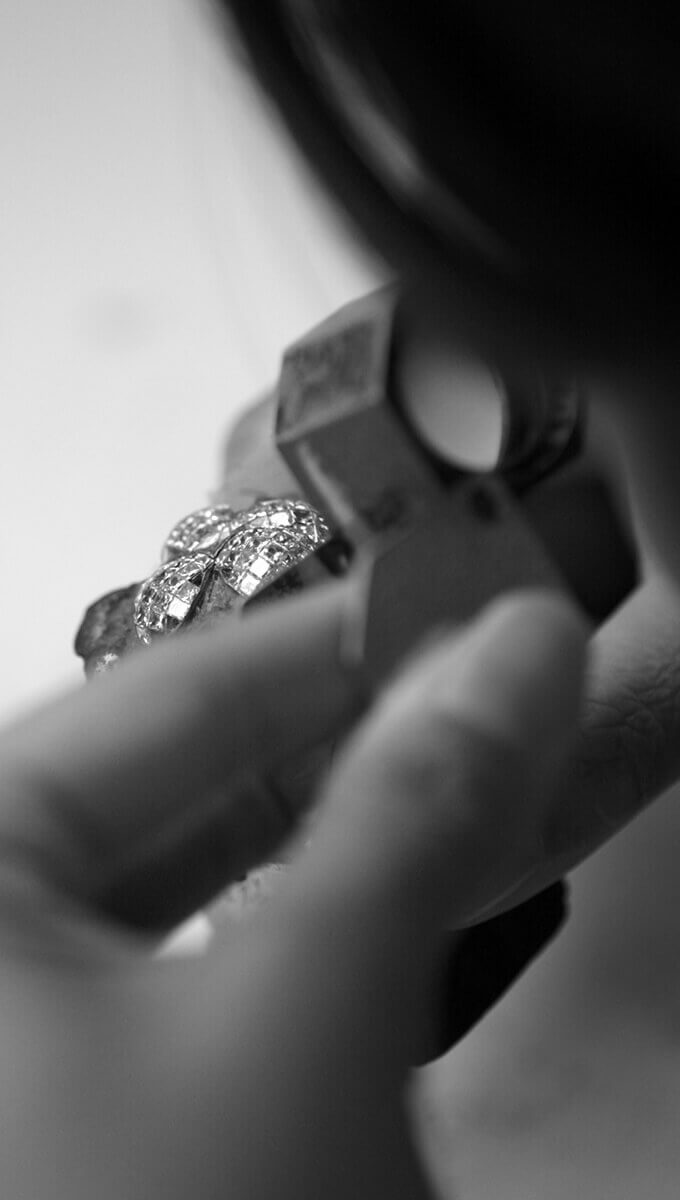 見えないパワーを持つ宝石だから、クオリティにはこだわりたい。
ベルシオラのダイヤモンドは、宝石そのものが高い品質であると同時に、
テーパーバゲットカットという特徴的なフォルムを用いているため、さらにクオリティが吟味されている。
豊かさを感じさせる末広がりのフォルムは、切り取る形状が限られるため、
フラットな大きな面積の原石を必要とする希少なもの。
熟練の職人による丁寧な研摩で光を取り込み、眩さよりも透明感を生かし、静謐に輝く。
Because these precious stones have an invisible power, quality is everything.
Bellesiora diamonds radiate an impeccable sense of quality
thanks to their characteristic tapered baguette cut and the high quality of the stones themselves.
Their elegantly tapered shape requires a large, flat surface area,
making these diamonds rarities that can only be cut from stones of a certain shape.
Polished with care by skilled artisans, they draw light inward
and shine serenely with a sense of translucence rather than a dazzling glare.
EVERYDAY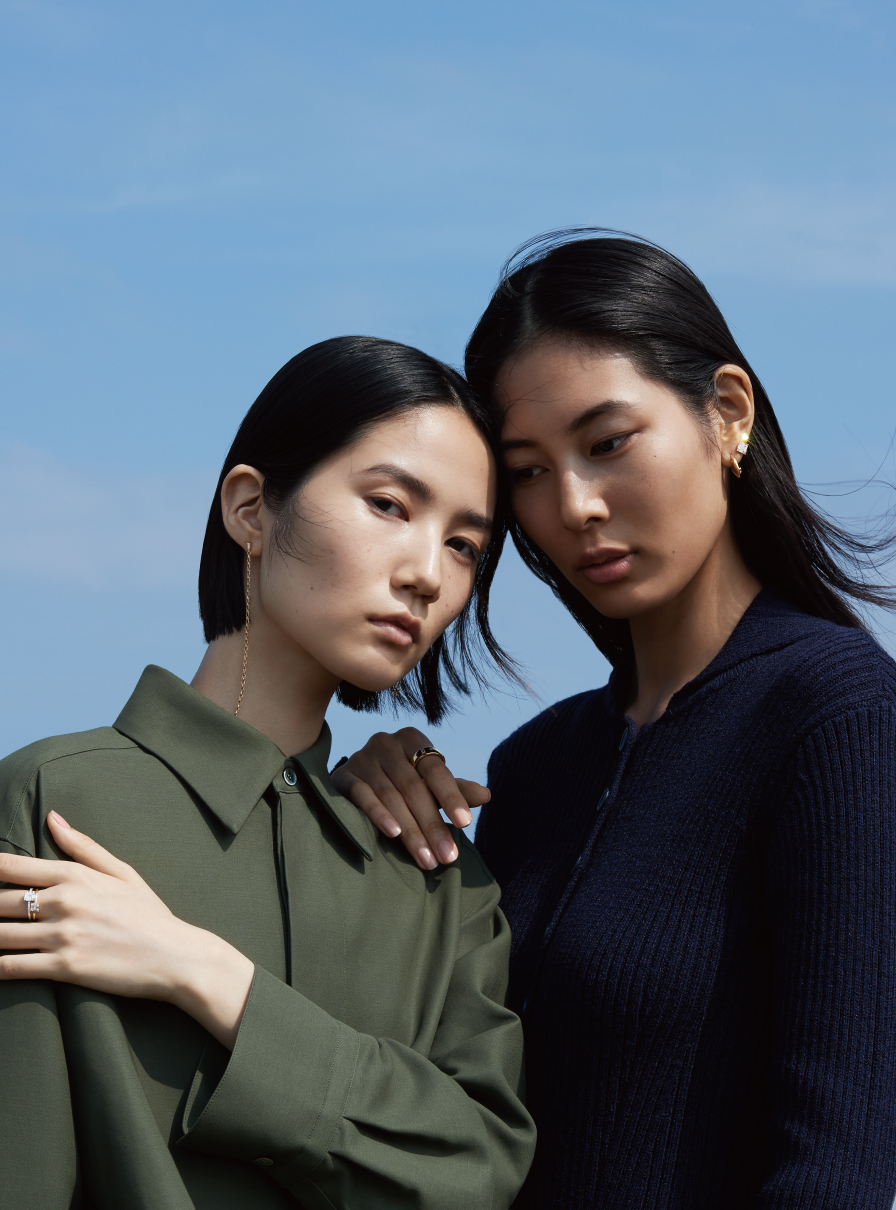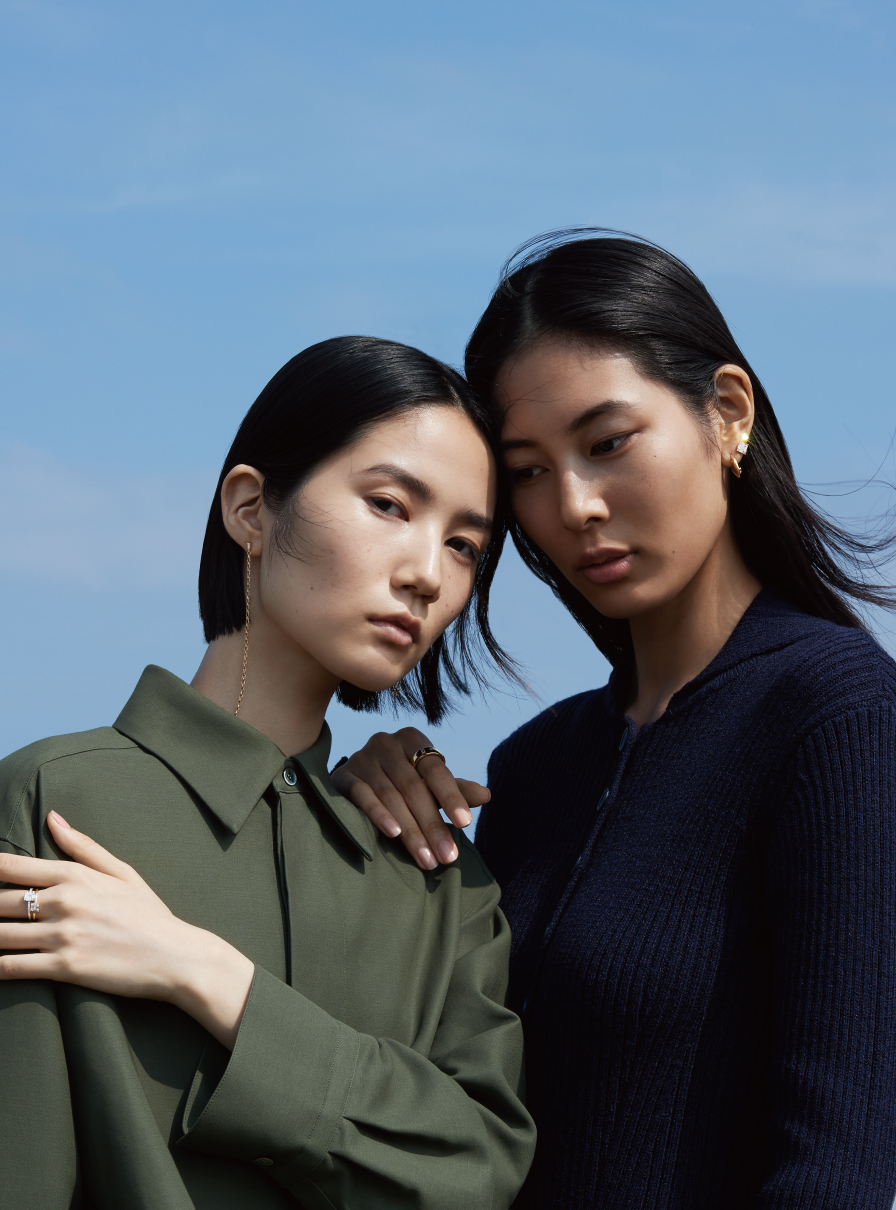 チェストの上のジュエリーボックスから、今日もまたあの輝きを身にまとう。
仕事もプライベートもポジティブに楽しむ女性にとって、朝、服を着替え、
仕上げにジュエリーをつけるプロセスは、オンタイムへと切り替える儀式のようなもの。
気がつくと毎日自然に手が伸びるのは、ベルシオラのテーパーバゲットカットダイヤモンドの輝き。
時に迷い、揺らいだりもする進行形の私を、さりげない煌めきで後押ししてくれるから。
シンプルな白シャツのときも、洗練されたワンピースのときも、なじむ輝きで前に向かう勇気をもたらしてくれる。
Once again today, she dons her favorite sparkling pieces from the jewelry box on her dresser.
For women with positive attitudes in their work and private life,
the process of getting dressed and adding jewelry as the finishing touch is a morning ritual to mentally switch on for the day.
Every day, she'll find herself naturally reaching for the brilliance of Bellesiora tapered baguette cut diamonds.
Why? Because this refined sparkle supports her even when she's lost or flustered as she goes through life.
Whether worn with a simple white blouse or an elegant dress, that familiar sparkle emboldens her to keep moving forward.